Volvo Buses India, a division of VE Commercial Vehicles Limited, today launched the next-gen Volvo 9600 platform. The first offerings on this platform are factory-built sleeper and seater coaches in 15 metres 6×2, and 13.5-metre 4×2 configurations. Volvo claims that these are the longest buses in India. The buses are likely to be priced in the range of ₹1.3-2 crore.
The Volvo 9600 has been derived from award-winning European design as its tall boy design marries fine aesthetics with generous space, the company said in a press note. The 15-metre seater coach has a passenger capacity of 55, whereas the sleeper coach has 40 berths.
The seater and sleeper applications incorporate 15.1 cu.m and 9.2 cu.m of luggage space respectively. The 13.5m coach seats up to 47 passengers, while the sleeper variant hosts 36 berths. The corresponding luggage space for the seater and sleeper variants are 13.6 cu.m and 8.1 cu.m respectively.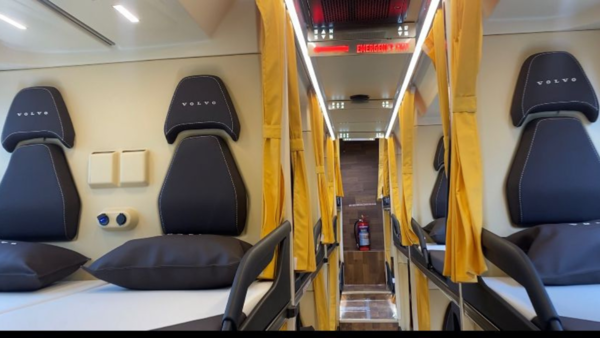 The Volvo 9600 platform will be powered by tried, tested, Volvo D8K (8-litre) turbo diesel engine, which produces 350 bhp of power @ 2200 RPM and a torque of 1350 Nm @ 1200-1600 RPM. The company claims that the fuel-efficient engine along with its purpose-developed drivetrain is designed to minimize TCO and maximize uptime for bus operators. The chassis includes the I-Shift automated manual gearbox, electronic braking system (EBS) Hill-start aid and Electronic Stability Program (ESP) systems.
In the 40 berths, the sleeper bus gets features such as storage shelves, ladders and restraints, flat floor saloon, individual USB charging ports, individual AC louvres and reading lights.
The 55-seater bus gets features such as pushback seats, theatre-type saloon and individual USB charging ports and reading lights.
The buses built on this platform will have an emergency panic button every 2 meters, self-illuminating emergency decals, emergency lighting and a hooter.
The buses on the Volvo 9600 platform will be manufactured at the Hosakote plant near Bengaluru and will be available for delivery in the next couple of months.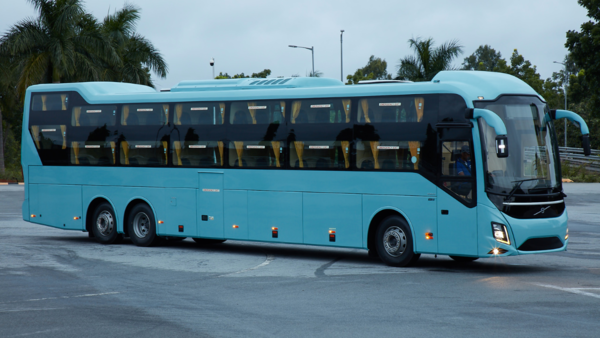 Speaking on the occasion, Vinod Aggarwal, MD & CEO, VE Commercial Vehicles, said, "The goal of our bus division at VECV is to shape the future of the Indian bus industry and to transform public mobility. I am proud to present the Volvo 9600 which takes the next step in luxury, comfort, and safety – values that all of us associate with Volvo Buses."